Parliament adjourned to Tuesday, 12th October 2021 at 02:00 p.m.
Hon. Timothy Masiu, MP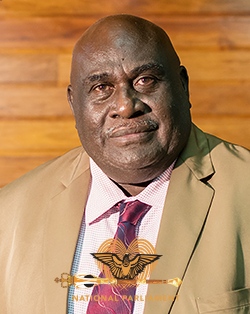 Ministerial Portfolio
Minister for Communication & Information Technology
Electorate
South Bougainville Open
Party
Papua & Niugini Union Pati (PANGU)
Parliamentary Services
Current: Re-elected to the 10th National Parliament for the South Bougainville Open seat as a National Alliance Party Candidate in the 2017 General Elections, then joined the PANGU Pati on 24/08/2021. Moved to join the Marape led Government on 10th September 2019, appointed as Minister for Communications & Information Technology following a cabinet reshuffle on 08/11/19, 2nd term in this Parliament.
Past: First elected to 9th National Parliament in July 2016 in a by-election for the South Bougainville Open electorate as a People's Progress Party candidate following the passing of then member, Steven Pirika Kamma. Deputy Opposition Leader and Shadow Minister for Inter- Governmental Relations & Bougainville Affairs in the Pruaitch led Opposition from August 2017-09/09/ 2019. A Committee member of Pensions and Retirement Benefits Parliamentary Committee from June 2019-2019 September 2019 under the Marape-Steven Government. A member of the National Alliance Party since entering politics until sometime in mid August 2021.
Biography
Last Occupation Prior to Elections: First Secretary for the Department of Inter Government Relations before contesting in the by-election.
Contact Details
Parliament Office
C/-National Parliament, PO Parliament House, WAIGANI, NCD 131, Papua New Guinea

Ph: +675 3277510/508
Fax: +675 3277480

Copyright 2021 National Parliament of Papua New Guinea