Parliament has been recalled for 2:00 pm, Thursday 2nd April 2020.
Hon. Henry John Amuli, MP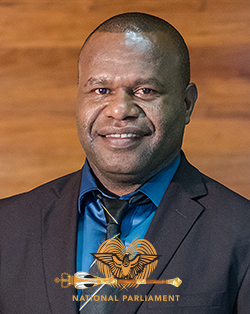 Ministerial Portfolio
Vice Minister for Agriculture (Oil Palm Industry, Cocoa, Copra & Vanilla)
Electorate
Sohe Open Electorate
Party
Papua & Niugini Union Pati (PANGU)
Votes Received
7,713
Parliamentary Services
Current: First elected to the 10th National Parliament in the 2017 National General Elections as an Independent candidate. Member for Sohe Open, joined the PANGU Pati, Appointed Vice Minister for Agriculture incharge of the Oil Palm Industry, Cocoa, Copra and Vanilla and all organizations that come under these commodities in the Marape-Steven Government and sworn in 21st July 2019 , First Term in this Parliament.
Past: Appointed Member to the Appointments and Constitutional Laws and Acts and Subordinate Legislation Parliamentary Committees in the O'Neill-Abel Government from August 2017-May 2019..
Biography
Religion: Christianity-Seventh Day Adventist (SDA)
Primary Education: Completed Primary Education at Kokoda Primary School, Gr 1-6, Oro/Northern
Secondary Education: Completed High school Education at Martyrs Memorial High School (Gr 7-10), Oro/Northern
Last Occupation Prior to Elections: Business Owner, Guest House & Trekking Tourism Business in Kokoda, Oro/Northern
Contact Details
Parliament Office
C/-National Parliament, PO Parliament House, WAIGANI, Papua New Guinea

Ph: +675 3277656
Fax: +675 3277480
hjamuli.sohemp@gmail.com/ hjamuli@gmail.com
Copyright 2019 National Parliament of Papua New Guinea