Parliament adjourned to 2pm 28th May
Dr. Fabian Pok, MP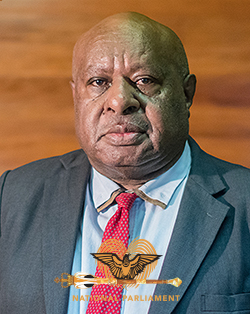 Ministerial Portfolio
Petroleum & Energy
Electorate
North Wahgi Open
Party
United Resource Party
Parliamentary Services
Current: Re-elected to the 10th National Parliament for the North-Waghi Open seat in the 2017 General Elections as a United Resources Party Candidate Appointed Minister for Petroleum and Energy following the formation of the O'neill-Abel Government on the 02/08/2017, 3rd Term in this Parliament.
Past: First elected, to the 6th National Parliament for North Wahgi Open seat in the 1997 General Elections as an Independent candidate . Appointed Minister for Forests from July 1997-July 1998, then responsibilities as Minister for Public Enterprise and Minister for Communications from April 1998 till resignation from the Skate government in June 1999. Led a bloc of independent MPs in the formation of the Morauta government in July 1999. Joined PDM after formation of government. Named in Sir Mekere Morauta's caretaker cabinet as Minister for Trade and Tourism, Commerce and Industry, and Police on the 15/07/99. Confirmed Minister for Lands and Physical Planning on the 26/07/99, then given added responsibilities as Minister for Petroleum and Energy in March 2000 till November 2000. Relinquished Lands and Physical Planning portfolio in April 2000. Appointed Minister for Labour and Employment on the 21/10/2001.Re-elected to the 9th National Parliament for the North-Waghi Open Electorate in the 2012 General Elections. Appointed Minister for Defence in the O`Neill-Dion cabinet as of August 2012.
Biography
Secondary Education: Attended Fatima High School, Banz and then Kerevat National High School.
Tertiary Education: University of Papua New Guinea (1987), University of New England, Australia.

Achievements: Bachelors Degree in Economics from UPNG in 1987. Masters Degree in Accountancy and Financial Management and PhD in Economics from the University of New England, Australia.
Last Occupation Prior to Elections: Worked with the Constitutional Review Committee as a consultant in 1996 till the 1997 National Elections.
Contact Details
Parliament Office
C/-National Parliament, PO Parliament House, WAIGANI, NCD 131, Papua New Guinea

Ph: +675 3277582
Fax: +675 3277480

Copyright 2018 National Parliament of Papua New Guinea