Parliament adjourned to Tuesday, 12th October 2021 at 02:00 p.m.
Hon. John Numoi Kaupa, MP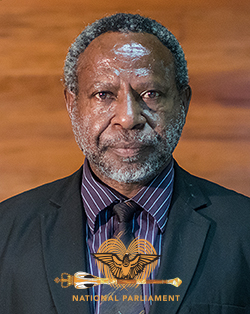 Electorate
Moresby North-East
Party
Independent
Votes Received
17,500
Parliamentary Services
Current: Re-elected to the 10th National Parliament for the Moresby North-East Open seat as a Papua New Guinea National Party Candidate in the 2017 General Elections, currently affiliated under the People's Party, 2nd Term in this Parliament.
Past: First elected to the 3rd House of Assembly/1st National Parliament in the 1972 General Elections for the Chuave Open seat, joined the People's National Congress Party from 2017-2019, Appointed Minister for Housing and Urban Development in the O'Neill-Abel Cabinet following its formation from August 2017-May 2019 then left PNC Party to join the People's Party in mid 2019.
Biography
Religion: Christianity-Religion
Primary Education: Completed Primary Education at Dulai Community School
Secondary Education: Completed Secondary Education at Gumine High School
Tertiary Education: Completed Tertiary Education at Divine Word University, Madang (1972)

Achievements: Earned a Diploma and a Degree-majoring in Accounting from Madang Divine Word University, Madang
Last Occupation Prior to Elections: Senior Accountant with Brian Bell Group of Companies, Port Moresby (1993-1997). Self Employed until 2017 General Elections
Contact Details
Parliament Office
C/-National Parliament PO Parliament House, WAIGANI, NCD 131, Papua New Guinea

Ph: +675 3277394
Fax: +675 3277480
pmaimamp@gmail.com/ jkaupa42@gmail.com/mjuaikero@gmail.com
Copyright 2021 National Parliament of Papua New Guinea