Parliament adjourned to Tuesday, 12th October 2021 at 02:00 p.m.
Hon. Michael Buku Nali, CBE, MP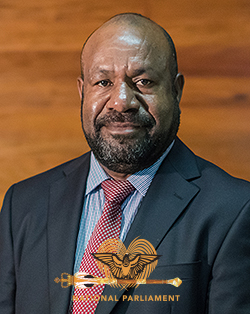 Ministerial Portfolio
Minister for Works & Implementation
Electorate
Mendi Open
Party
People's National Congress Party (PNC)
Votes Received
35,348
Parliamentary Services
Current: Re-elected to the 10th National Parliament in the 2017 General Elections as an Independent Candidate, then joined People's National Congress Party. Re-appointed Minister for Works & Implementation on 07/06/19, 4th term in this Parliament.
Past: First elected to 5th National Parliament for Mendi Open seat in the 1992 General Elections. Appointed member of Public Accounts Committee-Chairman and Public Works Committeein September 1994 and Vice Minister for Foreign Affairs and Trade. Appointed Minister for Civil Aviation, Culture and Tourism from July 1995-July 1997. Re-elected to 6th National Parliament for same seat in the 1997 General Elections. Appointed Minister for Trade and Tourism after formation of the Skate government in July 1997 till December 1997. Elected Leader of People's Progress Party and appointed Deputy Prime Minister and Minister for Trade and Industry from December 1997 till PPP removal from the Skate government in October 1998. Re-appointed Minister for Trade and Industry on the 26/07/99 following the formation of the Morauta government till November 2000. Named Shadow Minister for Foreign Affairs and Trade by opposition leader Mr. Bill Skate in June 2001, then Shadow Minister for Trade and Industry and Public Service following the handing over of the opposition leadership from Mr. Bill Skate to Sir Michael Somare in November 2001. Re-elected to the 7th National Parliament in the 2002 General Elections for the same seat. Following the election of Sir Michael Somare as prime minister on the 5/8/2002, appointed Minister responsible Public Service and Fisheries in the caretaker cabinet till announcement of cabinet proper on the 13/8/2002. Replaced as leader of the People's Progress Party by Dr. Allan Marat. Commissioned Minister for Lands and Physical Planning in the Somare-Marat cabinet on the 2/8/2003 till the 30/10/2003 when he Resigned as Government Minister to face Leadership Tribunal investigations. Recommended for dismissal from parliament by Leadership Tribunal on the 2/4/2004 (reported in Hansard 11/5/2004), and subsequently dismissed from parliament on the 3/4/2004. However; dismissal from parliament was overturned by the National Court on 10/3/2006 (N3015). Appointed Minister for Commerce and Industry in the Somare-Polye cabinet on the 19/1/2007. Appointed Minister for Works and Implementation in the O'Neill-Abel cabinet from August 2017- May 2019.
Biography
Primary Education: Completed Primary Education at Bela Primary School (1971-1976), Mendi
Secondary Education: Completed Secondary Education at Mendi High School (1977-1980), Mendi
Tertiary Education: Completed Tertiary Education at Goroka Technical College (1981)

Last Occupation Prior to Elections: Self Employed until entered Poltics.
Contact Details
Parliament Office
C/-National Parliament, PO Parliament House, WAIGANI, NCD 131, Papua New Guinea

Ph: +675 3277591/ 3241107
Fax: +675 3277480
michaelbukunali@gmail.com
Copyright 2021 National Parliament of Papua New Guinea