Parliament adjourned to Tuesday, 12th October 2021 at 02:00 p.m.
Hon. Koni K. Iguan, MP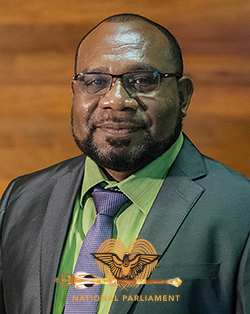 Ministerial Portfolio
Deputy Speaker
Electorate
Markham Open
Party
United Labour Party
Parliamentary Services
Current: Re-elected to the 10th National Parliament as the member for Markham Open Electorate seat during the 2017 General Elections as a Pangu Party Candidate. Elected Deputy Speaker after a ballot of 65 votes on 04/06/2020, currently affiliated with United Labour Party. Deputy Chairman of the Private Business and Standing Orders Parliamentary Committees, 2nd Term in this Parliament.
Past: First Elected to the 8th National Parliament for the Markham Open Electorate in the 2007 General Elections as People's Labour Party candidate. Served on the Parliamentary Referral Committee on Industry and Industrial Relations. Appointed Chairman of Public Accounts Committee on 29/09/2017, then appointed Minister for Communications and Information Technology on 17/04/2019 in the O'Neill- Abel Government after a minor cabinet reshuffle, affiliated with the Papua and Niugini Union (PANGU) Party. Appointed Vice Minister for Agriculture & Livestock (all matters related to the functions of livestock) in the Marape-Steven Government on 21/09/19-06/09/20.
Biography
Secondary Education: Completed High School Education from Bugandi High School, Lae.
Community Interests: Returned to his village and became a subsistant farmer. Elected Councillor in 1995-1996 (ONGA/WAFFA) and later council president from 1997-2002.
Last Occupation Prior to Elections: Member of the Morobe Provincial Assembly (Tutumang] prior to 2007 National Elections
Contact Details
Parliament Office
C/-National Parliament, PO Parliament House, WAIGANI, NCD 131, Papua New Guinea

Ph: +675 3277601/384
Fax: +675 3277480

Copyright 2021 National Parliament of Papua New Guinea