Parliament rise till Tuesday, 10th November 2020 at 2:00 pm
Hon. Bryan Jared Kramer, MP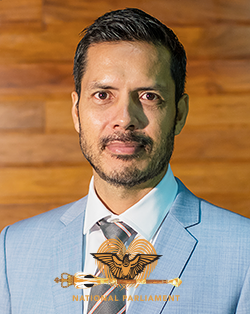 Ministerial Portfolio
Minister for Police
Electorate
Madang
Party
Allegiance Party
Votes Received
21,248
Parliamentary Services
Current: First elected to the 10th National Parliament for Madang Open seat in the 2017 General Elections as a PANGU Pati candidate. Resigned from the PANGU Pati to launch the Allegiance Party, which was renamed from Papua New Guinea Constitutional Democratic Party in March 2018. Formally recognised as Leader of the Allegiance Party by the Registrar of Political Parties in May 2018. Appointed Minister for Police on 17/06/19 following the formation of the Marape-Steven Cabinet, 1st Term in this Parliament.
Past: Appointed Shadow Minister for Public Enterprises and State Investments and Public Service in the Pruaitch led Opposition from August 2017-May 2019.
Biography
Religion: Christianity-Catholic
Primary Education: Completed Primary Education, Grades. 1-8 from Madang International Primary School, Madang (1980-1988)
Secondary Education: Completed Secondary Education, Gr. 8-11 from St Brendan's College Yeppoon, Queensland, Gr 12 from Divine Word Institute (1993)
Tertiary Education: Completed Tertiary Education from Divine Word Institute, Madang (1999).

Achievements: Obtained a Diploma in Business, 1995 and a Bachelors Degree in Accounting, 1999 from the Divine Word Institute, Madang.
Last Occupation Prior to Elections: Employed with KPMG and Kramer Group as a Finance Executive.
Contact Details
Parliament Office
C/-National Parliament, PO Parliament House, WAIGANI, Papua New Guinea

Ph: +675 3277549
Fax: +657 3277480
b.kramer@madangopenmp.gov.pg
Copyright 2020 National Parliament of Papua New Guinea