Parliament adjourned to Tuesday, 12th October 2021 at 02:00 p.m.
Hon. William Gogl Onglo, MP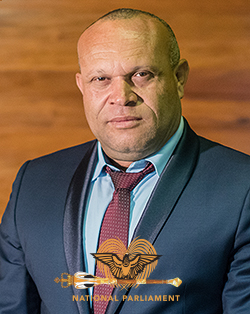 Ministerial Portfolio
Minister for Police
Electorate
Kundiawa Gembogl
Party
United Resource Party (URP)
Votes Received
15,500
Parliamentary Services
Current: First elected to the 10th National Parliament in the 2017 National General Election as a United Resource Party Candidate. Appointed Minister for Police on 20/12/20 in the Marape-Basil cabinet, 1st term in this Parliament.
Past: Appointed Minister for Defence on 13/05/2019 following a minor cabinet reshuffle under the O'Neill-Abel Government. D/Chairman of the Economic Affairs and a member of the Emergency Permanent Parliamentary Committees from June 2019 to September 2020. Served as Minister for Energy following a cabinet reshuffle on 01/10/2020 to 18/12/20, and as caretaker Minister for Higher Education, Science, Research & Technology on 16/11/2020 to 18/12/20.
Biography
Religion: Christianity-Seventh Day Adventist (SDA)
Primary Education: Completed his Primary Education from Kondopina Community School (Grade 1-6)
Secondary Education: Completed his Secondary education from Mt Wilhelm High School (Grade 7-10), then Passam National High School ( Grade 11-12)
Tertiary Education: Completed his Tertiary Education from University of Technology, Lae

Last Occupation Prior to Elections: Private Enterpreneur in the Field of Civil & Building (20 years)
Contact Details
Parliament Office
C/-National Parliament, PO Parliament House, WAIGANI, Papua New Guinea

Fax: +675 3277480
kundiawagembogl@gmail.com
Copyright 2021 National Parliament of Papua New Guinea