Parliament adjourned to Tuesday, 12th October 2021 at 02:00 p.m.
Hon. Petrus Nane Thomas, MP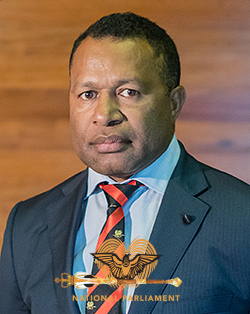 Electorate
Koroba-Lake Kopiago
Party
People's National Congress Party (PNC)
Parliamentary Services
Current: Re-elected to the 10th National Parliament for the Koroba-Lake Kopiago seat during the 2017 General Elections as an Independent Candidate, then joined People's National Congress Party, 2nd term in this Parliament. .
Past: First elected to the 7th National Parliament in the 2002 General Elections [Supplementary] for the Koroba-Lake Kopiago Open seat as a People's Progress Party Candidate. Appointed Minister for Lands and Physical Planning on the 18/5/2004 in the Somare government till resignation from cabinet on the 19/7/2004. Disqualified from parliament by the Court of Disputed Returns on the 3/1/2005. Endorsed National Alliance candidate for the Koroba-Lake Kopiago Open seat in the 2007 General Elections. Appointed Minister for Immigration and Border Security in the O'Neill-Abel Cabinet from August 2017-April 2019. Re-appointed Minister for Migration and Boarder Security in the Marape-Steven Government on 07/06/19, decommissioned on 08/11/19 following a cabinet reshuffle.
Biography
Primary Education: Completed Primary Education from Kumin Community School (1980-1985)
Secondary Education: Completed High school, Grade 10 from Mendi High School (1986-1989).
Tertiary Education: Completed Tertiary Education, Matriculation Studies in Mendi (1993 -1995), then University of Technology, Lae (1996-1997)

Achievements: Received a Diploma in Surveying from University of Technology, Lae in 1997.
Last Occupation Prior to Elections: Lands Officer
Contact Details
Parliament Office
C/-National Parliament, PO Parliament House, WAIGANI, NCD 131, Papua New Guinea

Ph: +675 3277692
Fax: +675 3277480

Copyright 2021 National Parliament of Papua New Guinea