Parliament adjourned to Tuesday, 12th October 2021 at 02:00 p.m.
Hon. Douglas Tomuriesa, MP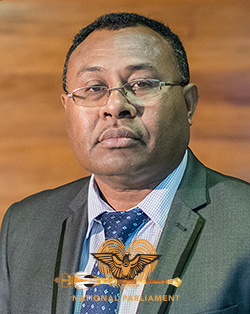 Electorate
Kiriwina-Goodenough Open
Party
Our Development Party
Parliamentary Services
Current: Re-elected to the 10th National Parliament for the Kiriwina- Goodenough Open seat as a People's National Congress Party Candidate in the 2017 General Elections. Currently affiliated with Our Development Party. Appointed D/Chairman of the Public Works Parliamentary Committee on 21/02/2020, 2nd term in this Parliament.
Past: First elected to the 9th National Parliament for the Kiriwina-Goodenough seat in the 2012 General Elections as a Triumph Heritage Empowerment Party candidate. Appointed Plans and Estimates Committee-Chair and member of Economic Affairs Committee, Public Works Committee and Assistant Speaker in August 2012 till 19/3/2014 then appointed Minister for Forests and Climate Change. Appointed Minister for Forestry in the O'Neill-Abel Cabinet from August 2017 until April 2019, Also Appointed Leader of Government Business on 17th April 2019. Joined PANGU Pati between June 2019-April 2020 then left to join Our Development Party. Resigned from Our Development Party to join PANGU Pati.
Biography
Religion: Christianity- Four Square
Primary Education: Completed Primary Education at Kiriwina Primary School
Secondary Education: Completed High School /Secondary Education at Cameron Secondary School
Tertiary Education: Completed Tertiary Education at Lae University of Technology, Lae

Achievements: Earned a Bachelor of Degree in Civil Engineering from the University of Technology, Lae.
Community Interests: Church Partnerships and activities
Last Occupation Prior to Elections: Manager at Bowmans Limited and a businessman
Contact Details
Parliament Office
C/-National Parliament, PO Parliament House, WAIGANI, NCD 131, Papua New Guinea

Ph: +675 3277627
Fax: +675 3277480

Copyright 2021 National Parliament of Papua New Guinea