Parliament adjourned to Tuesday, 12th October 2021 at 02:00 p.m.
Hon. Ian Ling-Stuckey, CMG, MP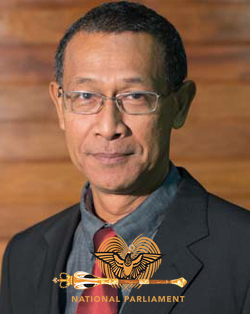 Ministerial Portfolio
Minister for Treasury
Electorate
Kavieng
Party
National Alliance Party (NA)
Votes Received
9,386
Parliamentary Services
Current: Re-elected to the 10th National Parliament in the 2017 National General Election as a National Alliance Candidate. Joined the Marape-Steven Government on 27/08/19. Appointed Minister for Treasury in the Marape-Steven Government on 27/07/2019, 3rd Term in this Parliament.
Past: First elected to 6th National Parliament in 1997 General Elections for Kavieng Open seat. Appointed Minister for Mining in July 1997 till removal of Pangu Pati from the Skate government December 1997. Appointed member of the Standing Orders Committee, Public Works Committee and Privileges Committee-Chair from March-April 1998. Joined the Skate government and appointed Minister for Public Service from April 1998-October 1998, then Minister for Commerce and Industry from October 1998 till installation of the Morauta government in July 1999. Served briefly as member of the Constitutional Laws and Acts and Subordinate Legislation Committee in November 1999, then Public Works Committee from November 1999. Re-elected to the 7th National Parliament in the 2002 General Elections for the New Ireland Provincial seat and assumed post of Governor for New Ireland Province. Served as member of the Economics Committee, Public Works Committee and the Select Committee on Pacific Economic Community-Chair between 2002 and 2007. Shadow Minister for Treasury and Finance in the Pruaitch led opposition from August 2017-August 26th 2019.
Biography
Religion: Christianity- Catholic
Primary Education: Completed Gr 1-6 at Kavieng Scared Heart (1965-1967), then Court Street Prim. Sch (1967-1969), Gordons Prim. Sch (1970-1971)
Secondary Education: Completed Secondary Education at St Peters Lutheran College, Indooroopilly, Brisbane, QLD (1978-1981)
Tertiary Education: Completed Tertiary Education from Griffith University, Brisbane Queensland (1978-1981)

Achievements: Earned a Bachelor of Science (B.Sc)- Applied Mathematics & Land Use Planning from Griffith University, Brisbane Queensland in 1982.
Last Occupation Prior to Elections: Chairman of Monian Group of Companies, A Family Business Owner, Ling-Stuckey Foundation
Contact Details
Parliament Office
C/-National Parliament, PO Parliament House, WAIGANI, Papua New Guinea

Ph: +675 3277567
Fax: +675 3277480
chairman@kdda.gov.pg
Electorate Office
c/-Kavieng District Development Authority, PO Box 44, Kavieng, New Ireland Province

Telephone: +675 71111777
Fax: NA
Email: chairman@kdda.gov.pg
Copyright 2021 National Parliament of Papua New Guinea