Parliament will rise till Tuesday, 25th August at 02:00 pm.
Hon. Johnson Ibo Tuke, MP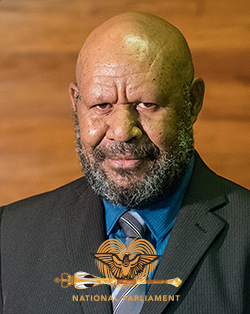 Ministerial Portfolio
Minister for Mining
Electorate
Kainantu Open
Party
People's Progress Party (PPP)
Votes Received
12,500
Parliamentary Services
Current: Re-elected to the 10th National Parliament for the Kainantu Open seat as a Peoples Progress Party Candidate in the 2017 General Elections. Appointed Minister for Mining in the Marape-Steven Government and sworn in on 07/06/19, 2nd term in this Parliament.
Past: First elected to the 9th National Parliament for the Kainantu Open seat in the 2012 General Elections as an Independent candidate then joined the People's Progress Party. Appointed Vice for Public Enterprises and State following formation of the O'Neill-Dion government in August 2012. Re-elected to the 10th National Parliament for the Kainantu Open seat as a Peoples Progress Party Candidate in the 2017 General Elections. Appointed Minister for Mining in the O'Neill-Abel Cabinet after the formation of Government from August 2017-May 2019,
Biography
Religion: Christianity-Seventh Day Adventist (SDA)
Primary Education: Completed his Primary Education at Yababi Primary (Gr 1-6), (1975-1980)
Secondary Education: Completed hi Secondary Education at Kainantu High School (Gr 7-10), (1981-1984)
Tertiary Education: Port Moresby Technical College, Pilot Training, Australia (1985-1986), UPNG 2014-2016

Achievements: Awarded a Bachelor of Degree in Public Policy & Management from the University of Papua New Guinea. Earned in Diploma in Electrical Trade from Port Moresby Technical. Pilot Training in Australia.
Last Occupation Prior to Elections: Founder of Fessa Electrical and Engineering Limited and was the Managing Director
Contact Details
Parliament Office
C/-National Parliament, PO Parliament House, WAIGANI, NCD 131, Papua New Guinea

Ph: +675 3277594
Fax: +675 3277480
johnsontuke@gmail.com
Copyright 2020 National Parliament of Papua New Guinea