Parliament adjourned to Tuesday, 12th October 2021 at 02:00 p.m.
Hon. Richard Masere, MP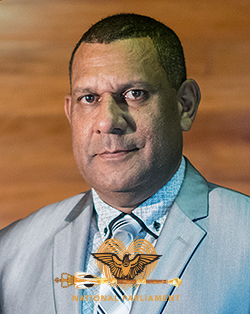 Ministerial Portfolio
Vice Minister assisting the Prime Minister on Foreign Investment Matters
Electorate
Ijivitari Open
Party
Papua New Guinea Greens (PNGG) Party
Votes Received
15, 245
Parliamentary Services
Current: First elected to the 10th National Parliament for the Ijivitari Open seat in the 2017 General Elections as a member of the National Alliance Party. Appointed as Vice Minister assisting the Prime Minister on Direct Foreign Investment from 7/09/2020 following a cabinet reshuffle, and sworn-in in May 2021, currently affiliated with the PNG Greens Party, 1st term in this Parliament.
Past: Appointed Member of the Appointments; Private Business and Standing Orders Parliamentary Committees and assistant Speaker from June 2019-early September 2020. Discharged from the Public Sector Reform and Service Delivery Special Committee on 03/09/20, discharged from the Private Business Committee and assistant Speaker on 04/09/2020. Joined People's National Congress party after the formation of the O'Neill-Abel Government then resigned to join Our Development Party at some point in time between 2017-2020.
Biography
Religion: Christianity- Anglican
Primary Education: Completed Primary Education from Coronation Primary School (1978-1983)
Secondary Education: Completed Secondary Education from Gordons Secondary School (1984-1987)
Tertiary Education: Completed Tertiary Education from Madang Divine Word University (2001-2003)

Achievements: Awarded Diplomas in Management and Human Resource Management from Madang Divine Word University, 2003.
Last Occupation Prior to Elections: Employed with Toyota Tsusto Holdings South Pacific (2012-2017)
Contact Details
Parliament Office
C/-National Parliament, PO Parliament House, WAIGANI, NCD 131, Papua New Guinea

Ph: +675 3277654/ 72568919
Fax: +675 3277480
richardmasere@gmail.com
Copyright 2021 National Parliament of Papua New Guinea