Special Parliament Sitting on Thursday 11th, March 2021 at 10:00 a.m.
Hon. Jelta Wong, MP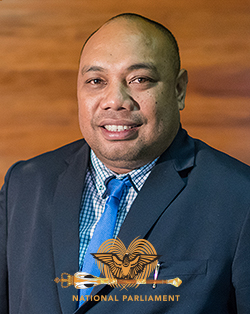 Ministerial Portfolio
Minister for Health & HIV/AIDS
Electorate
Gazelle Open
Party
United Resource Party (URP)
Parliamentary Services
Current: First elected to the 10th National Parliament for the Gazelle Open seat in the 2017 General Elections as a United Resource Party candidate. Reappointed as Minister for Health and HIV/AIDS on 20/12/20 under the Marape-Basil Cabinet, 1st term in this Parliament.
Past: Minister for Police in the O'Neill- Abel Cabinet after the formation of Government from August 2017- April 2019. Minister for Health & HIV/AIDS in the Marape-Stevens Government from 08/11/2019-30/09/2020. Served as Minister for Civil Aviation following a Cabinet reshuffle on 01/10/2020 to 19/12/20, and as caretaker Minister for State Enterprises on 16/11/2020 to 19/12/20.
Biography
Religion: Christianity-Catholic
Primary Education: Completed Primary Education at Kervat Comm. Sch (1983-1984) then to Sacred Heart International Sch. (1985-1990)
Secondary Education: Completed Secondary Education at St Gregory's College (1991-1994) then to Kerevat Nat. Hgh. Sch. (1995-1996)
Last Occupation Prior to Elections: Business man in Lae (2004-2007) and Kokopo (2007-2017)
Contact Details
Parliament Office
C/-National Parliament, PO Parliament House, WAIGANI, NCD 131, Papua New Guinea

Ph: +675 3277543/525/ 72900398
Fax: +675 3277480
jelta.wong@gmail.com
Copyright 2021 National Parliament of Papua New Guinea