Parliament will rise until Tuesday 3rd, April at 2:00 PM for the 6th Meeting of the Tenth session
Hon. Davis Steven, MP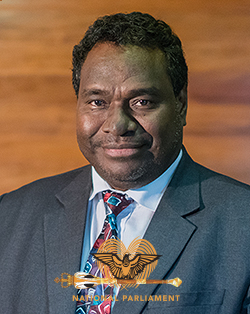 Ministerial Portfolio
Minister for Justice & Attorney General
Electorate
Esa'ala Open
Party
People's National Congress (PNC)
Parliamentary Services
Current: Re-elected to the 10th National Parliament for the the Esa'ala Open electorate as a Peoples National Congress Party Candidate in the 2017 General Elections. Appointed Minister for Justice & Attorney General in the O'Neill-Abel Cabinet forllowing the formation of Government in August 2017, 2nd Term in this Parliament.
Past: First elected to the 9th National Parliament for the Esa`ala Open seat in the 2012 General Elections as a People`s Party candidate. Appointed Minister for Civil Aviation in the O'Neill-Dion cabinet following the formation of government in August 2012
Biography
Religion:
Primary Education:
Secondary Education: Wesley High School, Milne Bay (1982-1985), Sogeri National High School (1986-1987)
Tertiary Education: University of Papua New Guinea (1988-1991), Legal Training Institute (1992).

Achievements: Earned a Bachelors degree in Laws from the University of Papua New Guinea in 1988-1991 and Legal Training Institute in 1992.
Community Interests:
Last Occupation Prior to Elections: Private practitioner in the PNG Legal System prior to 2012 National Elections.
Contact Details
Parliament Office
C/-National Parliament, PO Parliament House, WAIGANI, NCD 131, Papua New Guinea

Ph: +675 3277557
Fax: +675 3277480

Copyright 2018 National Parliament of Papua New Guinea