Parliament will rise till Tuesday, 25th August at 02:00 pm.
Hon. Delilah Pueka Gore, MP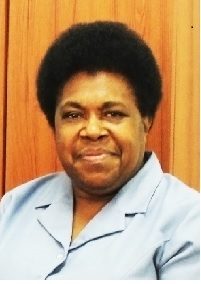 Ministerial Portfolio
Minister Religion, Youth & Community Development
Electorate
Sohe Open
Party
People's National Congress (P.N.C)
Date of Election
21 July 2012
Votes Received
6,105
Contact Details
Parliament Office
National Parliament P O Parliament House WAIGANI, N.C.D Papua New Guinea

Telephone: 3277579
Fax: 3277480
Email: delilah.gore62@gmail.com
Electorate Office
Sohe District Development Authority, Popondetta, Northern (Oro)

Telephone: (675) 6297864
Fax: (675) 6297455
Email: sohemedia@gmail.com/saibomai@gmail.com
Connect with Gore




Party Website
Parliamentary Services
Current: Member of Parliament for Sohe Open in Northern (Oro) Province & Minister for Religion, Youth & Community Development
Past: Vice Minister for Treasury Minister for Higher Education, Research, Science and Technology..
Biography
Religion: Christianity- Seventh Day Adventist (S.D.A)
Primary Education: 1973, Completed Grade Six (6), Sasembata Primary School
Secondary Education: 1977, Completed Grade Ten (10) at Popondetta High School
Tertiary Education: 1978, Lae Technical College

Achievements: 2007: Member of Institute of Chattered Management Accounting (I.C.M.A.P.N.G) 2007: Degree in Accounting, Institute of Chattered Management Accounting (I.C.M.A.P.N.G) 20013: Certificate in Accounting, Institute of Business Studies (I.B.S) 2004: Member of Certified Practicing Accountants (C.P.A.P.N.G) 2004: Diploma in Accounting, Certified Practicing Accountants (C.P.A.P.N.G) 2003: Certificate in Accounting, Institute of Business Studies (I.B.S)
Community Interests:
Last Occupation Prior to Elections: Department of Finance as District Treasurer, Oro Provincial Treasury for 8 years
Copyright 2020 National Parliament of Papua New Guinea