Parliament adjourned to Tuesday, 12th October 2021 at 02:00 p.m.
Hon. Bob Dadae, MP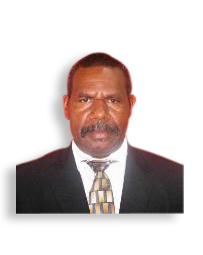 Electorate
Kabwum Open
Party
People's National Congress (P.NC.)
Date of Election
18 July 2012
Votes Received
8,088
Contact Details
Parliament Office
National Parliament P O Parliament House WAIGANI, N.C.D Papua New Guinea

Telephone: 3277638
Fax: 3277480
Email:
Electorate Office
P O Box 201, Lae, Morobe Province

Telephone: 3277638
Fax: 3277480
Email:
Connect with Dadae




Party Website
Parliamentary Services
Current: Member for Kabwum Open, Chairman of Public Works Permanent Committee, Member of Private Business Permanent Committee, Member of Public Accounts Permanent Committee and Member of Inter-Government Relations Referral Committee
Past: First elected in to he 7th National Parliament in the 2002 General Elections for the Kabwum Open seat as a United Party Candidate. Elected Deputy Leader of United Party after the 2002 general elections. Elected Deputy Speaker unopposed on the 30/06/2004 replacing Jeffery Nape. Re-elected to the 8th National Parliament in the 2007 General Elections for the same seat as a United Party candidate. Appointment as Minister for Defence in the Somare-Temu cabinet on the 29/8/2007 till 2/8/2011.
Biography
Religion: Christian- Lutheran
Primary Education: 1970-1975: Received primary education at the Ombo Lutheran Agency in Derim
Secondary Education: 1979: Secondary education at Bugandi High School where he graduated
Tertiary Education: He attended University of Papua New Guinea where he graduated with a Bachelor of Commerce degree in 1988, then obtained a Masters Degree in Business Administration from the Griffith University, Queensland in 1995.

Achievements: Board member of the Christian Press Inc., and Bumayong Lutheran High School, and a Church Elder in his local parish.
Community Interests:
Last Occupation Prior to Elections: Accountant of Evangelical Lutheran Church of Papua New Guinea
Copyright 2021 National Parliament of Papua New Guinea