Date Posted: July 06 2018
Deputy Speaker of the PNG National Parliament, Hon. Jeffrey Komal last month [May 2018] led a delegation of MPs and parliament staff to China for briefings related to the 19th National Congress of the Communist Party of China (CPC).
They met with almost 500 other representatives of political parties from Africa and the Caribbean in a three-day thematic event organised by China's International Department of the Central Committee of the CPC. (CPC)
The three day event which ended Monday May 28, was developed under four different themes.
They were stories of the Communist Party of China – Implementation of President Xi Jinping's Thought on Socialism with Chinese Characteristics for a New Era in Guangdong, International Seminar on Marxism in the 21st Century and the Future of Socialism in the World, the second China-CELAC (Community of Latin American and Caribbean States) Political Parties Forum, and the fourth, China/ Africa Young Leaders Forum.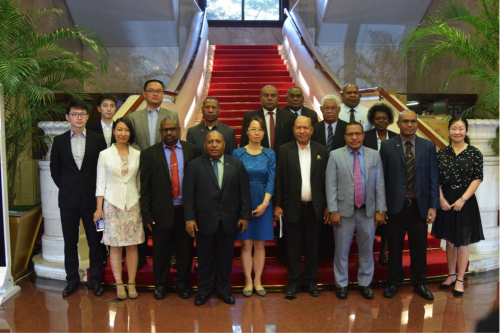 IMAGE CAPTION: The PNG delegation with Chinese government representatives.
The Papua New Guinea 15 - member delegation, visited Guangzhou the capital of Guangdong province and held talks with officials of the provincial authority and did the same in Shenzhen as part of the three day event.
In Guangzhou, the delegation met and held discussions with experts from the Guangdong Party School on reform and opening up, new development concepts and the development of SMEs.
These characteristics underpinned the province of Guangdong's development over the last 40 years.
They also held a meeting with Zou Ming who is a member of the province's Chinese Communist Party's Standing Committee and Minister of the Organisations Department.
A visit to the Duobao Community Health Service Centre by the Members of Parliament during which they took tests to determine their medical status and virtually experienced new medical equipment. This aroused interest in purchasing these equipment for their district hospitals.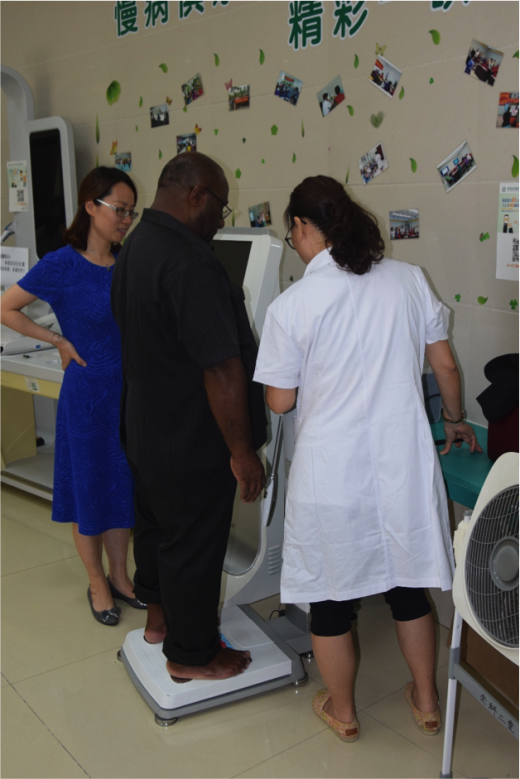 IMAGE CAPTION: Member for Maprik, Hon. John Simon takes a BMI test at the Duabao Community Health Centre.
Member for Maprik, Hon. John Simon takes a BMI test at the Duabao Community Health Centre.
Guangdong is China's most populated province situated in South China and adjacent to Hong Kong and Macao. It has achieved remarkable economic and social development. In 2017, its GDP reached 8.99 trillion RMB (per capita GDP 81,089 RMB).
World Party leaders invited by the CPC and our PNG members of parliament also participated in a seminar and shared with the Chinese the historical experiences of Shenzhen's development in the last 40 years from a small fishing village of 30 000 people to 20 million people today.
The Communist people' party of China prides itself in sharing the experiences of Shenzhen and Guangdong province's development and economic prosperity with the rest of the world.
Fascinated by the robust development of the CPC and China in the past decades, foreign parties have been
looking forward to the chance to get a better understanding of how the largest political party in the world governs China and maintains its vitality, and especially what changes are likely to occur as China ushers in a new era following the 19th CPC National Congress last October.
In its drive to share this knowledge of opening up and reform through its "belt and road" initiative, the CPC plans to include PNG and the South Pacific as an extension of its maritime economic drive.
The PNG delegation also visited other companies such as the Yantian Garbage Power plant- a Chinese company closely associated with the latest phase of Ramu hydro power, the Nanshang Hi-Tech Industrial Park and Hytera Communications Company.
Hytera is a manufacturer and supplier of communications equipment. It has strong links with PNG and is currently providing training in Shenzhen for several security personnel involved in preparations for the country's hosting of APEC later this year.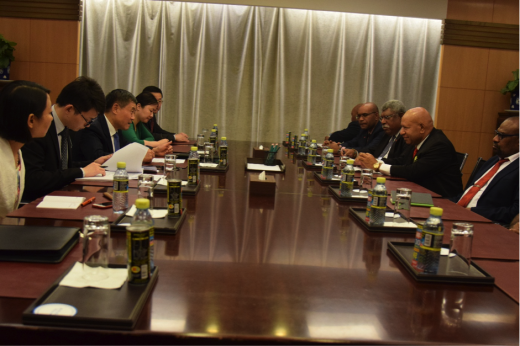 IMAGE CAPTION: Deputy Speaker Hon. Jeffrey Komal flanked by Members of Parliament and His Excellency PNG's Ambassador to China, Chris Mero in dialogue with Mr Du Quiwen, special envoy to the Pacific islands Forum.
While in Beijing they attended seminars and briefings by the CPC on subjects such as President Xi Jinping's thought on Socialism with Chinese Characteristics.
It also visit the headquarters of China Civil Engineering Construction Corporation (CCECC), a Chinese company closely associated with projects in PNG.
Deputy Speaker Jeffrey Komal said a report of the delegation's trip will be presented to Parliament.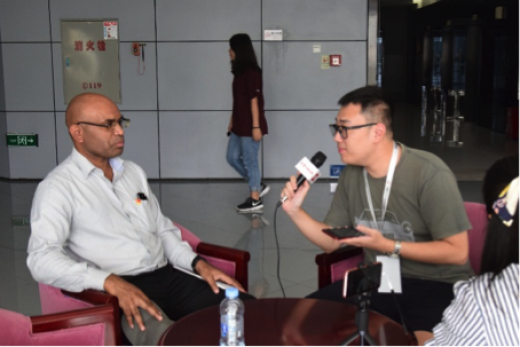 IMAGE CAPTION: Vice Minister for Petroleum & Energy and Member for Komo/Magarima, Hon. Manasseh Makiba, being interviewed by the Chinese Media in Shenzhen.
« Back to News