Parliament will rise till Tuesday, 25th August at 02:00 pm.
Hon. Toboi Awi Yoto, MP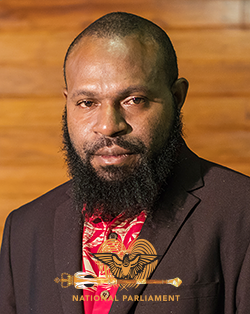 Electorate
Western Provincial
Party
Papua & Niugini Union Pati (PANGU)
Votes Received
23, 801
Parliamentary Services
Current: First elected to the 10th National Parliament for the Western Provincial seat in the 2017 General Elections as a United Resources Party candidate, Appointed Member of the Legislation; Public Accounts and Public Works Parliamentary Committees since June 2019 under the Marape-Steven Government.
Biography
Primary Education: Completed Primary Education from Nomad Community School, Gr 1-6
Secondary Education: Completed Secondary Education from Kiunga Secondary School, Gr 9-12
Tertiary Education: Completed Tertiary Education from Madang Divine Word University, (2003, 2005, 2006), then Lincoln University (2010-2012) NZ

Achievements: Graduated with a Diploma in Environmental Health Science from the Madang Divine Word University, then a Degree in Environment and Planning (One semester pending graduation)
Last Occupation Prior to Elections: Programme Officer to the Ministry of Tourism and Arts Culture from 2013-2016
Contact Details
Parliament Office
C/-National Parliament, PO Parliament House, WAIGANI, NCD 131, Papua New Guinea

Ph: +675 3277259/ 79682770
Fax: +675 3277480
taboiyawiyoto@gmaail.com
Copyright 2020 National Parliament of Papua New Guinea