Parliament will rise till Tuesday, 25th August at 02:00 pm.
Hon. Philip Undialu, MP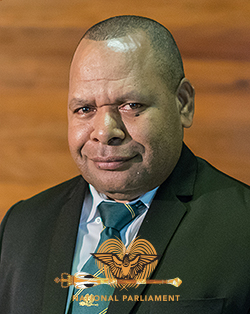 Electorate
Hela Provincial
Party
Papua Niugini Union Pati (PANGU)
Parliamentary Services
Current: Re-elected to the 10th National Parliament as the Governor for Hela Provincial seat during the 2017 General Elections under the Peoples National Congress Party Candidate, Resigned from the People's National Congress Party on 26th April 2019 and joined PANGU Pati, Chairman of Appointments Committee; Deputy chairman of Privileges Committee; a Member of the Constitutional Laws and Acts and Subordinate Legislation Committee; a member of Public Accounts Committee; a member of Citizenship Matters Committee; a member of Public Sector Reform & Service Delivery Special Committee under the Marape-Steven Government, 2nd Term in this Parliament.
Past: First elected to the 9th National Parliament for the Koroba-Lake Kopiago Open seat in the 2012 General Elections as a Triumph Heritage Empowerment Party candidate. Appointed Appointments Committee-Chair and member of the Plans and Estimates Committee and Public Accounts Committee in August 2012.
Biography
Last Occupation Prior to Elections: Self Employed prior to 2012 National Elections
Contact Details
Parliament Office
C/-National Parliament, PO Parliament House, WAIGANI, NCD 131, Papua New Guinea

Ph: +675 3277699/713
Fax: +675 3277480

Copyright 2020 National Parliament of Papua New Guinea