Parliament adjourned to Tuesday, 12th October 2021 at 02:00 p.m.
Hon. Dr. Lino Tom, MP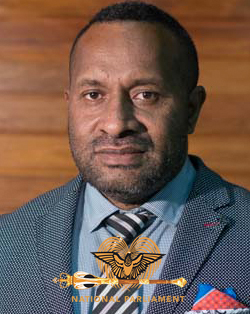 Ministerial Portfolio
Minister for Fisheries and Marine Resources
Electorate
Wabag Open
Party
People's Party (PP)
Parliamentary Services
Current: First elected to the 10th National Parliament for the Wabag Open seat in the 2017 General Elections as an Independent Candidate, then joined the People's Party. Appointed as Minister for Fisheries and Marine Resources on 07/06/2019,1st term in this Parliament.
Past: Appointed Member of the Appointments Parliamentary Committee under the O'Neill-Able Government until change of Government on 30th May 2019. Served as caretaker Minister for Immigration and Border Security from 16/11/2020 to 19/12/2020.
Biography
Contact Details
Parliament Office
C/-National Parliament, PO Parliament House, WAIGANI, NCD 131, Papua New Guinea

Ph: +675 3277575
Fax: +675 3277480

Copyright 2021 National Parliament of Papua New Guinea