Parliament adjourned to Tuesday, 20th April 2021 at 2:00 p.m.
Hon. Jimmy Uguro, MP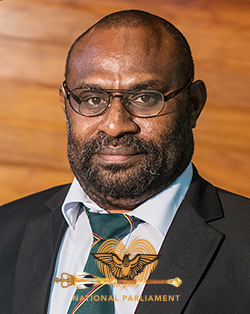 Ministerial Portfolio
Vice Minister for Mining
Electorate
Usino Bundi Open
Party
Papua Niugini Union Pati (PANGU)
Votes Received
8, 272
Parliamentary Services
Current: First elected to the 10th National Parliament for the Usino-Bundi Open seat in the 2017 General Elections as a National Alliance Party candidate. Currently affiliated with the PANGU Pati. Appointed Vice Minister for Mining in the Marape-Steven Government on 21/06/2019, 1st Term in this Parliament.
Past: Appointed Member to the Constitutional Laws and Acts and Subordinate Legislation, Law & Order and Culture & Tourism Permanent Parliamentary Committees in the O'Neill-Abel Government from 2017-2019.
Biography
Religion: Christianity-Faith Baptist
Primary Education: Completed Primary Education at Usino Bundi Comm. School, Grades 1-6 (1983-1978)
Secondary Education: Completed Secondary Education at Brahman High School, Grades 7-10 (1988-1991)
Tertiary Education: Completed Tertiary Education at Madang Divine Word University (2005), University of Goroka (2001), Madang Teachers Collg. (1995)

Achievements: He was awarded a Masters in Educational Leadership from Madang Divine Word University in 2005 after completing his Masters Studies from 2002-2005. Prior to his Masters Programme, he obtained his Bachelor of Education Degree from the University of Goroka in 2001. Earlier on, he was awarded his Diploma in Education (Primary Teaching) from Madang Teachers College in 1995 soon after completion of his studies from 1993-1995. He is currently pursuing his PhD Research at Madang Divine Word University.
Last Occupation Prior to Elections: Executive Officer to Madang Provincial Administrator from 2015-2016
Contact Details
Parliament Office
C/National Parliament, PO Parliament House, WAIGANI, NCD 131, Papua New Guinea

Ph: +675 3277646/71335009
Fax: +675 3277480
jimmy.uguro@gmail.com
Copyright 2020 National Parliament of Papua New Guinea