Parliament adjourned to Tuesday, 12th October 2021 at 02:00 p.m.
Hon. Win Bakri Daki, MP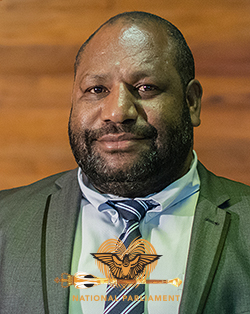 Ministerial Portfolio
Minister for Correctional Service
Electorate
Tambul Nebilyer
Party
Papua & Niugini Union Party (PANGU)
Parliamentary Services
Current: First elected to the 10th National Parliament for the Tambul-Nebilyer seat in the 2017 General Elections as an Independent Candidate, then joined PNC Party. Currently affiliated with the PANGU Pati. Appointed as Minister for Correctional Service on 20/12/20 under the Marape-Basil cabinet, 1st term in this Parliament.
Past: Served as Vice Minister for Treasury in charge of the Independent Consumer & Competition Commission and provincial Government Budgets from 21/06/ 2019 to 19/12/20.
Biography
Contact Details
Parliament Office
C/-National Parliament, PO Parliament House, WAIGANI, NCD 131, Papua New Guinea

Ph: +675 3277662
Fax: +675 3277480

Copyright 2021 National Parliament of Papua New Guinea