Parliament adjourned to Tuesday, 20th April 2021 at 2:00 p.m.
Hon. Saki Hacky Soloma, MP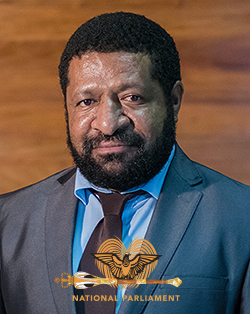 Ministerial Portfolio
Minister for Defence and Caretaker Minister for Correctional Services
Electorate
Okapa Open
Party
Papua & Niugini Union Pati (PANGU)
Votes Received
15,613
Parliamentary Services
Current: First elected to the 10th National Parliament for the Okapa Open seat in the 2017 General Elections as a member of the THE Party, Appointed Minister for Defence (National Fire Service, Nataional Volunteer Service and National Disaster) on 7/06/19, Appointed as caretaker Minister for Correctional Services on 16/11/2020, 1st term in this Parliament.
Past: Joined the People's National Congress Party after the formation of the O'Neill-Abel Government from August 2017-April 201 then resigned from the People's National Congress Party on 29th April 2019.
Biography
Religion: Christianity- Four Square Gospel
Primary Education: Completed Primary Education at Henegaru Community School (1986-1991)
Secondary Education: Completed High School at Okapa High School (1992-1995), then Secondary at Aiyura National High School (2000-2003)
Tertiary Education: Completed Tertiary Education at University of Goroka (2000-2003)

Achievements: Awarded a Bachelor Degree in Secondary School Education form University of Goroka in 2003
Last Occupation Prior to Elections: Taught IN several Schools then resigned to contest 2012 & 2017 General Elections
Contact Details
Parliament Office
C/-National Parliament, PO Parliament House, WAIGANI, NCD 131, Papua New Guinea

Ph: +675 3277644
Fax: +675 3277480

Copyright 2020 National Parliament of Papua New Guinea