Parliament will rise till Tuesday, 25th August at 02:00 pm.
Hon. William Nakin, MP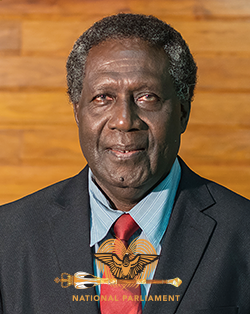 Electorate
North Bougainville Open
Party
National Alliance Party (NA)
Parliamentary Services
Current: First elected to the 10th National Parliament for the North Bougainville Open seat in the 2017 General Elections as a member of the National Alliance Party, Appointed Member of the Permanent Parliamentary Committee on Emergency, Public Works and Public Sector Reforms & Service Delivery in the Marape-Steven Government in June 2019, left the Opposition Branch to join the Government Branch on 10th September 2019, 1st Term in this Parliament.
Past: Member of the Opposition from August 2017-9th September 2019.
Biography
Religion: Christianity-Catholic
Primary Education: Completed his Primary Education at Gogohe Prim. Sch, Standard 1-4 (1961-1964), and St Joseph Rigu, Standard 5-6 (1965-1966).
Secondary Education: Completed his Secondary Education at St Jospehs Rigu High School, Form 1-4 (1967-1970)
Tertiary Education: Completed his Primary Education at the Lae University of Technology from 1971-1974.

Achievements: Obtained a Bachelor's Degree in Business Studies from the Lae University of Technology after completion of his studies.
Last Occupation Prior to Elections: Businessman- Managing Director for Buka Enterprises Limited from 1960-2016
Contact Details
Parliament Office
C/-National Parliament, PO Parliament House, WAIGANI, NCD 131, Papua New Guinea

Ph: +675 3277617/ 73232821
Fax: +675 3277480
wnakin33@gmail.com
Electorate Office
P.O. Box 201, Buka, Autonomous Region of Bougainville, Section 1, Lot 7, Buka Town

Telephone: +675 70109587
Email: jbrillante2@gmail.com/ wnakin33@gmail.com
Copyright 2020 National Parliament of Papua New Guinea