Parliament adjourned to Tuesday, 12th October 2021 at 02:00 p.m.
Hon. Walter David Schnaubelt, MP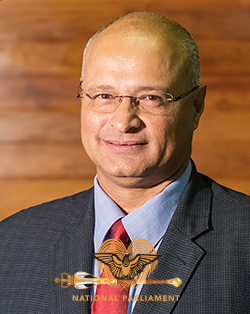 Ministerial Portfolio
Minister for Forests
Electorate
Namatanai Open
Party
National Alliance Party (NA)
Votes Received
20, 474
Parliamentary Services
Current: First elected to the 10th National Parliament for the Namatanai Open seat in the 2017 General Elections as a member of the National Alliance Party. Joined the Marape-Steven Government on 27/08/2019. Appointed Minister Forestry on 20/12/2020, 1st term in this Parliament.
Past: Appointed the Opposition Whip under the Pruaitch led Opposition since August 2017-August 2019, then left the Opposition Branch to join the Marape-Steven Government on 27th August 2019. Chairman of Law & Order from June 2019 to 28/08/2020, a member of the Emergency Permanent Parliamentary Committee from June 2019 to September 2020. Served as Minister for Culture, Tourism and National Museum from 01/10/20 to 19/12/20.
Biography
Religion: Christianity- Roman Catholic
Primary Education: Completed his Primary Education from the Sacred Heart Primary School, Malaguna, East New Britain Province
Secondary Education: Completed his Secondary Education from the Marist Ash Grove College, Brisbane and Grades 11- 12 from Tafe College
Achievements: Holds a 3rd Degree Black Belt Karate, Business Administration Studies, Open Water Diver, Entrepreneur since 1997 to date
Last Occupation Prior to Elections: Director and Managing Director of SOS Security Limited since 1997
Contact Details
Parliament Office
C/-National Parliament, PO Parliament House, WAIGANI, NCD 131, Papua New Guinea

Ph: +675 3277529/73264784
Fax: +675 3277480
office@namatanaidistrict.gov.pg
Copyright 2021 National Parliament of Papua New Guinea