Parliament adjourned to Tuesday, 12th October 2021 at 02:00 p.m.
Hon. Roy Biyama, MP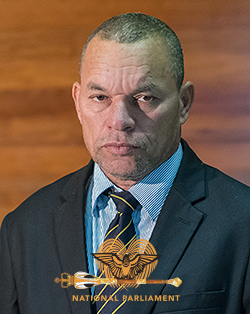 Electorate
Middle Fly Open
Party
Papua & Niugini Union (PANGU) Pati
Votes Received
8,268
Parliamentary Services
Current: Re-elected to the 10th National Parliament for the Middle Fly Open seat as a People's National Congress Candidate in the 2017 General Elections. Currently affiliated with the the PANGU Pati, 4th term in this Parliament.
Past: First elected to the 7th National Parliament in 2002 as Papua New Guinea Revival Party then joined People's Action Party. Minister for Higher Education, Research and Science Technology in the Somare/Marat Cabinet on 2/08/2003, resigned as Government Minister on 18/05/2004, then reinstated on the same day as Minister for Labour and Industrial Relations. Appointed Minister for State Assisting the Prime Minister on 23/06/2006 (G123,2006). Re-elected to the 8th National Parliament in the 2007 General Elections for the same seat as a United Resources Party candidate. Appointed as Parliamentary Secretary for Environment and Conversation and member of Parliamentary Referral Committee on Lands and Environment in August 2007. Re-elected to the 9th National Parliament in the 2012 General Elections for the same seat as Peoples National Congress Party candidate. Appointed Culture and Tourism Committee-Deputy Chair and member for Emergency Committee and Plans and Estimates Committee in August 2012. Appointed Minister for Correctional Service following the formation of the O'Neill-Abel Government from August 2017-April 2019. A member of the People's National Congress Party (PNC) then joined PANGU Pati.
Biography
Religion: Christianity-Seventh Day Adventist (SDA)
Primary Education: Completed Primary Education at Biula Community School, 1975-1984
Secondary Education: Completed High School/ Secondary Education at Awaba Secondary School, 1981-1984
Tertiary Education: Completed Tertairy Education at Kiunga Vocational Centre

Achievements: Earned a Certificate in Motor Mechanic from Kiunga Vocational Centre, Private Business Man
Last Occupation Prior to Elections: Businessman
Contact Details
Parliament Office
C/-National Parliament, PO Parliament House, WAIGANI, Papua New Guinea

Ph: +675 3277644
Fax: +675 3277480
Nil
Copyright 2021 National Parliament of Papua New Guinea