Parliament will rise till Tuesday, 25th August at 02:00 pm.
Hon. Moriape Vereda Kavori, MP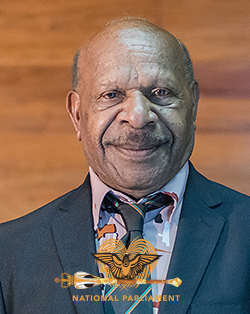 Electorate
Lufa Open Electorate
Party
United Labour Party
Votes Received
10,358
Parliamentary Services
Current: First elected to the 10th Parliament for the Lufa Open Seat in the 2017 National General Elections as a THE Party candidate, then joined PANGU Pati, currently affiliated with the United Labour party, appointed Member of the Law & Order Parliamentary Committee under the Marape-Steven Government in June 2019, 1st term in this Parliament.
Past: Appointed Vice Minister for Fisheries and Maritime following the formation of the O'Neill- Abel Government from August 2017- May 2019.
Biography
Religion: Christianity- Seventh Day Adventist (SDA)
Achievements: Successful Businessman; Owner of Coffee Factory in Lufa, Eastern Highlands Province
Last Occupation Prior to Elections: Self-employed, Businessman in the Coffee Industry (Owns a Dry Coffee Factory in Lufa, EHP)
Contact Details
Parliament Office
C/-National Parliaemnt, PO Parliament House, WAIGANI, Papua New Guinea

Ph: +675 3277678
Fax: +675 3277480

Electorate Office
Lufa District, PO Box8 80, Goroka, Eastern Highlands Province

Telephone: 7650140/75568233
Email: admin@lufadistrict.gov.pg/ projects@lufadistrict.gov.pg
Copyright 2020 National Parliament of Papua New Guinea