Parliament will rise till Tuesday, 25th August at 02:00 pm.
Hon. Manasseh Quiz Makiba, MP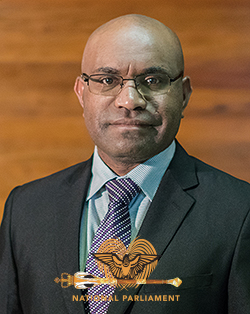 Ministerial Portfolio
Vice Minister for Assisting Prime Minister (KPHL, NGCB & MRDC)
Electorate
Komo Margarima Open
Party
Papua & Niugini Union Pati (PANGU)
Parliamentary Services
Current: First elected to the 10th National Parliament for the Komo-Margarima Open seat in the 2017 General Elections as an Independent Candidate, currently affiliated with PANGU Pati, Appointed Vice Minister assisting the Prime Minister on Kumul Petroleum Holdings Limited (KPHL), National Gaming & Control Board (NGCB) and Mineral Resources Development Company (MRDC) and sworn in on 21st June 2019, 1st Term in this Parliament.
Past: Joined People's National Congress Party and appointed Vice Minister for Petroleum & Energy after the formation of the O'Neill-Abel Government in August 2017, resigned as Vice Minister for Petroleum & Energy and the People's National Congress Party on 26th April 2019.
Biography
Religion: Christianity- United Church
Primary Education: Completed Gr 1-6 from Hiri Community School, (1991-1996), Margarima, Hela Province
Secondary Education: Completed Gr 7-10 from Margarima High School (1997-2001), then Aiyura National High School, Gr 11-12 (2002-2003), Kainantu, EHP
Tertiary Education: Completed School of Law from University of Papua New Guinea (2004-2007), then at Legal Training Institute (2008-2009), NCD.

Achievements: He graduated with Bachelor of Laws (LLB) Degree from the University of Papua New Guinea (2007), then graduated with a Certificate of Post Graduate in Legal Training from the Legal Training Institute in 2009. He got Admitted to the Bar of the National and Supreme Courts of Papua New Guinea to practice as a lawyer in 2009. He practiced law in various firms and companies in Papua New Guinea from 2009 to 2017.
Community Interests: Develop Komo Margarima District to become a better place for people to live
Last Occupation Prior to Elections: Manager Legal at Mineral Resources Development Company Limited (MRDC) from 2014- 2017
Contact Details
Parliament Office
C/-National Parliament, PO Parliament House, WAIGANI, NCD 131, Papua New Guinea

Ph: +675 3277603/ 75478907
Fax: +675 3277480
m4makiba@gmail.com
Copyright 2020 National Parliament of Papua New Guinea