Special Parliament Sitting on Thursday 11th, March 2021 at 10:00 a.m.
Hon. Bari Palma, MP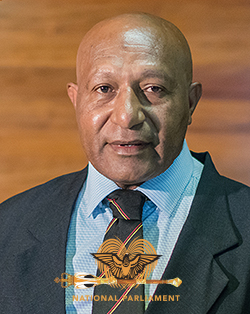 Electorate
Kerowagi Open
Party
Peoples National Congress Party (PNC)
Parliamentary Services
Current: First elected to the 10th National Parliament for the Kerowagi Open seat in the 2017 General Elections as a member of the PNG Party then joined People's National Congress Party on 07/02/18,1st Term in this National Parliament.
Past: Appointed Vice Minister for Mining in the O'Neill-Abel Cabinet from August 2017-April 2019.
Biography
Contact Details
Parliament Office
C/-National Parliament, PO Parliament House, WAIGANI, NCD 131, Papua New Guinea

Ph: +675 3277670
Fax: +675 3277480

Copyright 2021 National Parliament of Papua New Guinea