Parliament will rise till Tuesday, 25th August at 02:00 pm.
Hon. Wesley Raminai, MP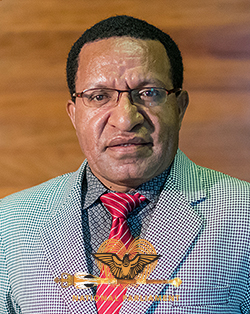 Ministerial Portfolio
Vice Minister for Sports
Electorate
Kagua Erave
Votes Received
22, 000
Parliamentary Services
Current: First elected to the 10th National Parliament for the Kagua Erave Open seat in the 2017 General Elections as an Independent Candidate. Re-appointed and sworn in as Vice Minister for Sports in the Marape-Steven Government on 21st of June 2019, currently affiliated with the United Labour Party, 1st Term in this Parliament.
Past: Appointed Vice Minister for Sports & APEC in the O'Neill-Abel Cabinet from August 2017-April 2019, Affiliated with United Resource Party (URP).
Biography
Religion: Christianity-Seventh Day Adventist (SDA)
Primary Education: Completed Primary Education from Kagua Admin Primary School (1983-1988)
Secondary Education: Completed Secondary Education from Kagua High School (1989-1992), then Abergowrie College, QLD (1993-1995)
Tertiary Education: Completed Tertiary Education from the university of Papua New Guinea (1996-1998)

Achievements: Earned a Certificate and Diploma in Business Management from the University of Papua New Guinea in 1998
Last Occupation Prior to Elections: Private Businessman, owner of WESRAM Group of Companies & Treasurer of Port Moresby Rugby League 2003-2005
Contact Details
Parliament Office
C/-National Parliament, PO Parliament House, WAIGANI, NCD 131, Papua New Guinea

Ph: +675 3277600/ 3238795/79028172
Fax: +675 3277480
woraminai@yahoo.com.au
Copyright 2020 National Parliament of Papua New Guinea