Parliament adjourned to Tuesday, 12th October 2021 at 02:00 p.m.
Hon. Wesley Raminai, MP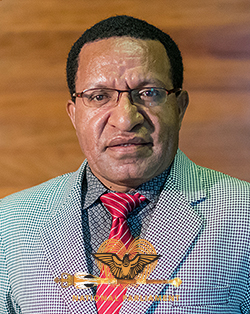 Ministerial Portfolio
Minister for Higher Education, Research, Science, Technology and Sports
Electorate
Kagua Erave
Votes Received
22, 000
Parliamentary Services
Current: First elected to the 10th National Parliament for the Kagua Erave Open seat in the 2017 General Elections as an Independent Candidate. Appointed Minister assisting the Prime Minister on Sports and National Gaming on 01/12/2020, and Minister for Higher Education, Science, Research and Technology on 20/12/2020, currently affiliated with the United Labour Party, 1st term in this Parliament.
Past: Appointed Vice Minister for Sports & APEC in the O'Neill-Abel Cabinet from August 2017-April 2019. Re-appointed as Vice Minister for Sports between June 2019 and November 2020. Was also affiliated with the United Resource Party (URP) at some time.
Biography
Religion: Christianity-Seventh Day Adventist (SDA)
Primary Education: Completed Primary Education from Kagua Admin Primary School (1983-1988)
Secondary Education: Completed Secondary Education from Kagua High School (1989-1992), then Abergowrie College, QLD (1993-1995)
Tertiary Education: Completed Tertiary Education from the university of Papua New Guinea (1996-1998)

Achievements: Earned a Certificate and Diploma in Business Management from the University of Papua New Guinea in 1998
Last Occupation Prior to Elections: Private Businessman, owner of WESRAM Group of Companies & Treasurer of Port Moresby Rugby League 2003-2005
Contact Details
Parliament Office
C/-National Parliament, PO Parliament House, WAIGANI, NCD 131, Papua New Guinea

Ph: +675 3277600/ 3238795/79028172
Fax: +675 3277480
woraminai@yahoo.com.au
Copyright 2021 National Parliament of Papua New Guinea