Parliament adjourned to Tuesday, 12th October 2021 at 02:00 p.m.
Hon. Ross Seymour, MP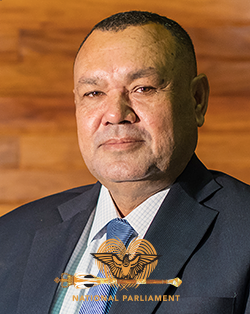 Electorate
Huon Gulf Open
Party
National Alliance Party (NA)
Parliamentary Services
Current: Re-elected to the 10th National Parliament as the member for Huon-Gulf Open seat in the 2017 General Elections as a National Alliance Candidate. Appointed Committee Member of the Plans & Estimates Parliamentary Committee in the Marape-Steven Government since June 2019, left the opposition Branch to join the Government Branch on 10th September 2019, appointed assistant speaker on 04/09/20, 2nd Term in this Parliament.
Past: First elected to the 9th National Parliament for the Huon Gulf Open Electorate seat in the 2012 General Elections as an PNG Party candidate. Appointed member of the Public Accounts Parliamentary Committee and Shadow Minister for Fisheries, Marine Resources and Mining in the Pruaitch led opposition from August 2012- September 2019.
Biography
Contact Details
Parliament Office
C/-National Parliament, PO Parliament House, WAIGANI, NCD 131, Papua New Guinea

Ph: +675 3277615
Fax: +675 3277480

Copyright 2021 National Parliament of Papua New Guinea