Parliament will rise till Tuesday, 25th August at 02:00 pm.
Hon. Westly Nukundj, MP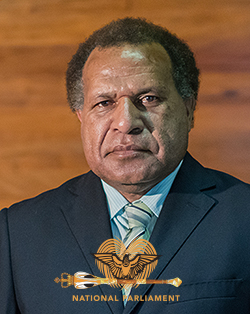 Ministerial Portfolio
Immigration & Border Security
Electorate
Dei Open
Party
Liberal
Parliamentary Services
Current: Re-elected to the 10th National Parliament as the member for Dei Open Electorate during the 2017 General elections as a Peoples National Congress Candidate, appointed Minister for Immigration and Boarder Security following a cabinet reshuffle on 08/11/19, currently affiliated to the Liberal Party, 2nd Term in this Parliament.
Past: First elected to the 9th National Parliament for the Dei Open Electorate seat in the 2012 General Elections as a People`s Party candidate. Appointed member of the Culture and Tourism Committee and Public Works Committee in August 2012. Appointed Minister for Transport in the O'Neill-Able Government from 2017-April 2019. He was then appointed Minister for Public Service on 13/05/2019 after a minor cabinet reshuffle in the O'Neill led Government. Appointed Minister for Public Service in the Marape-Steven Government on 07/06/19-07/11/19 then changed ministerial portfolio following a cabinet reshuffle on 08/11/19.
Biography
Contact Details
Parliament Office
C/-National Parliament, PO Parliament House, WAIGANI, NCD 131, Papua New Guinea

Ph: +675 3277350
Fax: +675 3277480
wnukundj@ymail.com
Copyright 2020 National Parliament of Papua New Guinea