Parliament adjourned to Tuesday, 12th October 2021 at 02:00 p.m.
Hon. Salio Waipo, MP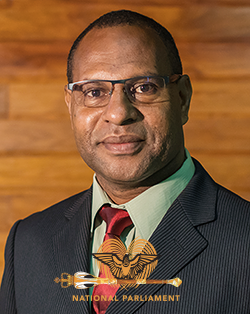 Ministerial Portfolio
Vice Minister for Public Service
Electorate
Angoram Open
Party
National Alliance Party (NA)
Parliamentary Services
Current: Re-elected to the 10th National Parliament as the Member for Angoram Open in the 2017 National General Election. Appointed as Vice Minister for Public Service on 03/06/2020 and sworn in on 11/05/2021, 2nd term in this Parliament.
Past: First elected to the 9th National Parliament in 2013 for the Angoram Open electorate as a National Alliance Party candidate in a by-election in 2013, following the death of then member, Ludwig Schulz. Was a Member of the Finance Referral Parliamentary Committee in 2012, Chairman of Foreign Affairs and Defence Parliamentary Committee in the O'Neill-Abel Government from August 2017-9th September 2019. Chairman of Foreign Affairs and Defence and Member of the Culture and Tourism, National Parliament, Public Accounts and Plans & Estimates Parliamentary Committees from June 2019-June 2020, Assistant Speaker from May 2019-June 2020. He left the Opposition Branch to join the Government Branch on 10th September 2019.
Biography
Primary Education: Completed Primary Education from Angoram Primary School (1975-1980)
Secondary Education: Completed Secondary Education from Brandi High School, Grade 10, (1984), Wewak
Tertiary Education: Completed Tertiary Education from Wewak Business School (1986-1987).

Last Occupation Prior to Elections: Businessman with interests in fuel service station and truck hire in Angoram for 23 years prior to entering politics in 2013
Contact Details
Parliament Office
C/-National Parliament, PO Parliament House, WAIGANI, NCD 131, Papua New Guinea

Ph: +675 3277616
Fax: +675 3277480
qqsalio.waipo@gmail.com
Electorate Office
PO Box 24, ANGORAM, East Sepik Province

Telephone: +675 4853015
Fax: +675 4583014
Email: qqsalio.waipo@gmail.com
Copyright 2021 National Parliament of Papua New Guinea