Parliament adjourned to Tuesday, 12th October 2021 at 02:00 p.m.
Hon. Johnson Wapunai, MP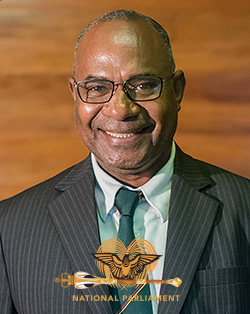 Electorate
Ambunti Drekikir
Party
People's National Congress Party (PNC)
Votes Received
8,307
Parliamentary Services
Current: First elected to the 10th National Parliament in the 2017 National General Election as a United Resource Party Candidate, then joined the People's National Congress Party, 1st Term in this Parliament.
Past: Appointed Vice Minister for Finance, Implementation and Rural Development in the O'Neill-Abel Government from August 2017-May 2019. Served as Vice Minister for Public Service following the formation of the Marape-Steven Government on 21/06/2019 to June 2020.
Biography
Primary Education: Completed Primary Education at Bainik Primary School, Grades 1-6 (1974-1979)
Secondary Education: Completed Secondary Education at Maprik Provincial Hgh. Sch. Grs. 7-10 (1980-1983) and Grs. 11-12, Passam High Sch. (1984-1985)
Tertiary Education: Completed Tertiary Education at College of Allied Health Science (1968-1988)

Achievements: Awarded a Certificate in Diploma from the Applied Sciences and the Royal Society of Health.
Last Occupation Prior to Elections: Manager for a Private Business Company (2003-2017)
Contact Details
Parliament Office
C/-National Parliament, PO Parliament House, WAIGANI, Papua New Guinea

Ph: +675 3277787/ 76092525/ 78086456
Fax: +675 3277480
jaywaps@gmail.com
Copyright 2021 National Parliament of Papua New Guinea