Parliament adjourned to Tuesday, 12th October 2021 at 02:00 p.m.
Hon. Jim Simatab, MP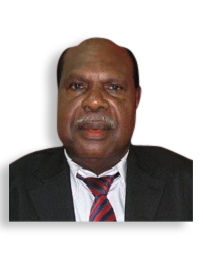 Ministerial Portfolio
Minister Correctional Service
Electorate
Wewak Open
Party
National Alliance (N.A)
Date of Election
19 July 2012
Votes Received
9,261
Contact Details
Parliament Office
National Parliament P O Parliament House WAIGANI, N.C.D Papua New Guinea

Telephone: 3277537/3238350
Fax: 3230982
Email: jbsimatab19@gmail.com
Electorate Office
Wewak District, P O Box 179, Wewak, East Sepik Province

Telephone: 4563822
Fax: 4563822
Email:
Connect with Simatab




Party Website
Parliamentary Services
Current: Member of Parliament for Wewak Open and Minister for Correctional Services
Past: First Elected to the 8th National Parliament for the Wewak Open Electorate in the 2007 General Elections as an Independent candidate. Appointed as the Parliamentary Secretary for Agriculture and Livestock on the 29/08/2007 and Parliamentary Referral Committee on Communications on 18/09/2007. Election declared void by Supreme Court 24/6/2010. Lost seat on recount. Re-elected to the 9th National Parliament for the same seat in the 2012 General Elections as a National Alliance Party candidate.
Biography
Religion: Christianity- Roman Catholic
Primary Education: Yarapos Primary School, East Sepik Province,1960-1966
Secondary Education: Bugandi High School,Morobe, Form Four, 1967-1970
Tertiary Education: Bachelor of Business Studies, University of Lae Technology, 1974-1975

Achievements: Bachelor of Business, Papua New Guinea University of Technology, 1975
Community Interests: Active Golf Player
Last Occupation Prior to Elections: Managing Director, Family Cocoa Business- Cocoa Dealer and Processing
Copyright 2021 National Parliament of Papua New Guinea