Parliament adjourned to Tuesday, 12th October 2021 at 02:00 p.m.
Hon. Benny Allan, MP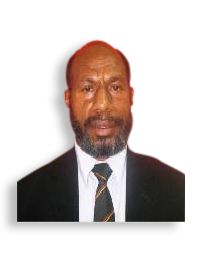 Ministerial Portfolio
Minister Lands and Physical Planning
Electorate
Unggai- Bena Open
Party
People's National Congress (P.N.C)
Date of Election
27 July 2012
Votes Received
15,139
Contact Details
Parliament Office
National Parliament P O Parliament House WAIGANI, N.C.D Papua New Guinea

Telephone: 3277553
Fax: 3277480
Email: unggaibena2012@gmail.com
Electorate Office
Unggai Bena District, P O Box 1100, GRK 441, Eastern Highlands Province

Telephone: 7322322/7323652
Fax: 7231945/7323625
Email: unggaibena2012@gmail.com
Connect with Allan




Party Website
Parliamentary Services
Current: Member of Parliament for Unggai- Bena Open, Minister for Lands and Physical Planning
Past: First elected in to the 7th National Parliament in the 2002 General Elections for the Unggai-Bena Open seat as an Independent Candidate, then joined the United Resources Party. Appointed Shadow Minister for Culture and Tourism, and Housing in the Morauta led opposition in February 2004 till joining the Somare government in May 2004 then appointed Parliamentary Secretary in the Somare government on the 30/6/2005 (G97 of 2005). Re-elected to the 8th National Parliament for the same seat as a United Resources Party Candidate in the 2007 General Elections. Appointment as Minister for Environment and Conservation in the Somare-Temu cabinet on the 29/8/2007 till 2/8/2011.
Biography
Religion: Christianity
Primary Education: Completed Primary education, 1972
Secondary Education: Form 1 and 2, Goroka High School, 1973-74
Tertiary Education: Form 3 and 4, Lae Technical College. Goroka Teachers College, 1980-82

Achievements:
Community Interests: Rugby League
Last Occupation Prior to Elections: Manager of Negiso Investment (1994-2002)
Copyright 2021 National Parliament of Papua New Guinea