Parliament adjourned to Tuesday, 12th October 2021 at 02:00 p.m.
Hon. Francis Marus, MP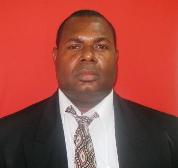 Ministerial Portfolio
Higher Education, Research, Science & Technology
Electorate
Talasea Open
Party
Peoples National Congress (P.N.C)
Date of Election
22 July 2012
Votes Received
17, 408
Contact Details
Parliament Office
National Parliament P O Parliament House WAIGANI, N.C.D Papua New Guinea

Telephone: 3277622
Fax: 3277480
Email: francismarus@gmail.com
Electorate Office


Telephone:
Fax:
Email:
Connect with Marus




Party Website
Parliamentary Services
Current: Member of Parliament for Talasea Open, Deputy Chairman of Justice Referral Committee and member of Inter-Government Relations
Past: First Elected to the 8th National Parliament for the Talasea Open Electorate in the 2007 General Elections as an Pangu Pati candidate. Appointed Emergency Committee-Chair and member of the Parliamentary Referral Committee on Education and Parliamentary Referral Committee on Transport and Civil Aviation on the 18/09/2007. Served as Deputy Speaker from 2008 to 2012.
Biography
Religion: Christianity- Catholic
Primary Education: Galai Primary School
Secondary Education: Grade 10, Hoskins High School, then Adult Matriculation.
Tertiary Education: Business Management; Public Policy Management and Executive MBA, UPNG 2014

Achievements: Executive Master in Business Administration
Community Interests: Rugby League and Service Delivery to the Rural
Last Occupation Prior to Elections: Training for a commercial pilot licence for helicopter in Melbourne Australia from 1999 to 2000 and a Businessman
Copyright 2021 National Parliament of Papua New Guinea