Parliament adjourned to Tuesday, 12th October 2021 at 02:00 p.m.
Hon. James Gau, MP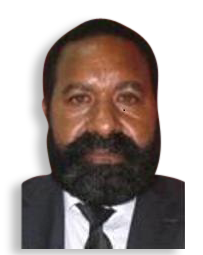 Electorate
Rai Coast Open
Party
Triumph Heritage Empowerment (T.H.E)
Date of Election
25 July 2012
Votes Received
10,586
Contact Details
Parliament Office
National Parliament P O Parliament House WAIGANI, N.C.D Papua New Guinea

Telephone: 3277565
Fax: 3277480
Email: gaujames7@gmail.com
Electorate Office
P O Box 2139, Madang 511, Madang Province, PNG

Telephone: 70770290
Fax:
Email: gaujames7@gmail.com
Connect with Gau




Party Website
Parliamentary Services
Current: Member of Parliament for Rai- Coast Open, Deputy Chairman of Communications Referral Committee (PRC), Chairman of Inter-Government Relations Referral Committee (PRC), member of Pensions and Retirement Benefits Permanent Committee (PPC)
Past: First Elected to the 8th National Parliament for the Rai Coast Open electorate in a by-election following the death of then sitting member, Niuro Toko Sapia. Elected Governor for Madang Province in January 2011 following appointment of Sir Arnold Amet as a member of NEC.
Biography
Religion: Christianity- Lutheran
Primary Education: Male Primary School, Rai Coast, Madang
Secondary Education: Tusbab High School, Madang
Tertiary Education: Lae Technical, Lae

Achievements: Department of Works to a high rank Technician in Civil Engineering (SWS)
Community Interests: Assisting in church activties
Last Occupation Prior to Elections: Civil Engineering Technical Officer
Copyright 2021 National Parliament of Papua New Guinea