Parliament will rise till Tuesday 11th February 2020 at 2:00 PM
Hon. Fabian Pok, MP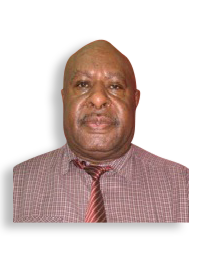 Ministerial Portfolio
Minister Defence
Electorate
North Wahgi Open
Party
United Resource (U.R.P)
Date of Election
30 July 2012
Votes Received
14,559
Contact Details
Parliament Office
National Parliament P O Parliament House WAIGANI, N.C.D Papua New Guinea

Telephone: 3277582/3242494
Fax: 3277480
Email: drifpoh@gmail.com
Electorate Office
C/- P O Box 37 Banzi

Telephone:
Fax:
Email:
Connect with Pok




Party Website
Parliamentary Services
Current: Member of Parliament for North Wahgi Open and Minister for Defence
Past: First elected, to the 6th National Parliament for North Wahgi Open seat in the 1997 General Elections as an independent . Appointed Minister for Forests from July 1997-July 1998, then responsibilities as Minister for Public Enterprise and Minister for Communications from April 1998 till resignation from the Skate government in June 1999. Led a bloc of independent MP's in the formation of the Morauta government in July 1999. Joined PDM after formation of government. Named in Sir Mekere Morauta's caretaker cabinet as Minister for Trade and Tourism, Commerce and Industry, and Police on the 15/07/99. Confirmed Minister for Lands and Physical Planning on the 26/07/99, then given added responsibilities as Minister for Petroleum and Energy in March 2000 till November 2000. Relinquished Lands and Physical Planning portfolio in April 2000. Appointed Minister for Labor and Employment on the 21/10/2001.
Biography
Religion:
Primary Education:
Secondary Education:
Tertiary Education:

Achievements:
Community Interests:
Last Occupation Prior to Elections: Lecturer at the University of Papua New Guinea
Copyright 2019 National Parliament of Papua New Guinea