Parliament adjourned to Tuesday, 12th October 2021 at 02:00 p.m.
Hon. Francis Potape, MP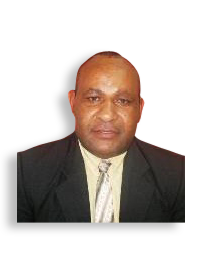 Electorate
Komo-Margarima Open
Party
People's National Congress (P.N.C)
Date of Election
18 July 2012
Votes Received
16,236
Contact Details
Parliament Office
National Parliament P O Parliament House WAIGANI, N.C.D Papua New Guinea

Telephone: 3277673
Fax:
Email: francispotape@gmail.com
Electorate Office
Tumbi Tari District Administrator P O Box 1, Hela Province

Telephone: 72114944 (D.A)
Fax:
Email:
Connect with Potape




Party Website
Parliamentary Services
Current: Member of Parliament for Komo-Margarima Open, Member of Public Works Permanent Committee and Member of Primary Resources Referral Committee (PRC)
Past: First Elected to the 8th National Parliament for the Komo-Margarima Open in the 2007 General Elections as a New Generation Party candidate. Disqualified from parliament by court of disputed returned in May 2008.
Biography
Religion: Christianity (Seventh Day Adventist)
Primary Education: Dauli Primary School
Secondary Education: Tari High School and Aiyura National High
Tertiary Education: University of Wollongon, NSW, Australia,

Achievements: Hon. Degree in Mining Engineering Minister for Climate Change, Minister for Transport, Minister for Administration Services, Minister for Petroleum and Energy 2011
Community Interests:
Last Occupation Prior to Elections: Second Secretary to Minister for Environment
Copyright 2021 National Parliament of Papua New Guinea