Parliament adjourned to Tuesday, 12th October 2021 at 02:00 p.m.
Hon. Francis Awesa, MP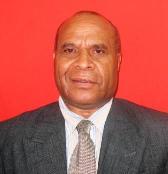 Ministerial Portfolio
Minister for Works and Implementation
Electorate
Imbonggu Open
Party
People's National Congress (P.N.C)
Date of Election
23 July 2012
Votes Received
25,919
Contact Details
Parliament Office
National Parliament P O Parliament House WAIGANI, N.C.D Papua New Guinea

Telephone: 3277528
Fax:
Email:
Electorate Office


Telephone:
Fax:
Email:
Connect with Awesa




Party Website
Parliamentary Services
Current: Member of Parliament for Imbbongu Open and Minister for Works & Implementation
Past: First Elected to the 8th National Parliament for the Imbonggu Open Electorate in the 2007 General Elections as an Papua New Guinea Party candidate. Served briefly as member of the Parliamentary Referral Committee on Justice. Appointed Minister for Transport and Works on the 5/8/2011 in the O'Neill-Namah cabinet.
Biography
Religion:
Primary Education: 1960-1966, Kiburu Pirmary School, Southern Highlands Province
Secondary Education: 1967-1970, Mendi High School, Southern Highlands Province,
Tertiary Education: 1975, Degree in Law, U.P.N.G. 1978, Diploma in Management, Australia Staff Admin College, Melbourne

Achievements: Awarded the Order of Logohu (OL) in 2006
Community Interests:
Last Occupation Prior to Elections: Self employed businessman in the hospitality industry
Copyright 2021 National Parliament of Papua New Guinea