Parliament adjourned to Tuesday, 12th October 2021 at 02:00 p.m.
Hon. David Arore, MP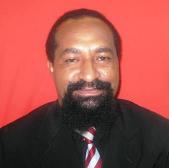 Electorate
Ijivitari Open
Party
People's National Congress (P.N.C)
Date of Election
20 July 2012
Votes Received
8,933
Contact Details
Parliament Office
National Parliament P O Parliament House WAIGANI, N.C.D Papua New Guinea

Telephone: 3277599
Fax: 3277480
Email: robert.dangri.14@gmail.com
Electorate Office


Telephone:
Fax:
Email:
Connect with Arore




Party Website
Parliamentary Services
Current: Member of Parliament for Ijivitari Open
Past: First Elected to the 8th National Parliament for the Ijivitari Open Electorate in the 2007 General Elections as an Independent candidate. Appointed as the Parliamentary Secretary for Education on the 29/08/2007. other committees included Parliamentary Referral Committee on Lands and Environment Committee, Special Committee on Agriculture and Livestock- Chairman, Special Committee on Asian Owned and Operated Businesses in PNG- Chairman . Disqualified from parliament and recount of ballots ordered by court of disputed returns on 25/4/2008. Appointed Minister for Higher Education, Research, Science and Technology on the 5/8/2011 in the O'Neill-Namah cabinet.
Biography
Religion:
Primary Education:
Secondary Education:
Tertiary Education:

Achievements:
Community Interests:
Last Occupation Prior to Elections:
Copyright 2021 National Parliament of Papua New Guinea