Date Posted: July 06 2018
PNG's Permanent Parliamentary Committee on Public Accounts (PAC) has given public bodies and their subsidiaries one month to prepare all outstanding financial statements for the Auditor-General to audit and inspect.
The PAC issued the directive 19th June 2018 after briefly questioning the heads of the 16 institutions which were summoned, on why they have not complied with Section 63 of the Public Finances Management. (PFMA)
The Auditor-General in its report to Parliament last November had expressed serious concern over the failure by many public bodies to submit current financial statements for audit inspection.
"The reason for producing financial statements on time is to provide correct information about the financial position and performance of an organisation," Chairman of the PAC, Hon. Toni Iguan told the Heads of the statutory bodies.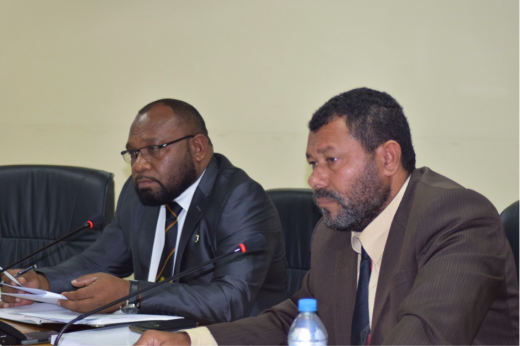 Image Caption: Chairman of the Public Accounts Committee, Hon. Koni Iguna (left) issues directives to the heads of the statutory bodies with Committee Member and Member for Bogia, Hon. Chris Naguri.
Sixteen public bodies altogether were cited for non-compliance of Section 63 of the PFMA.
The Committee PAC) asked each CEO whether they were aware of their duties and responsibilities as Chief Executive Officer of the Organisation and the requirements of Section 63(PFMA).
At least CEOs responded by saying that they were appointed only recently to their positions and would need time to prepare financial statements-some of them dating back to 2014.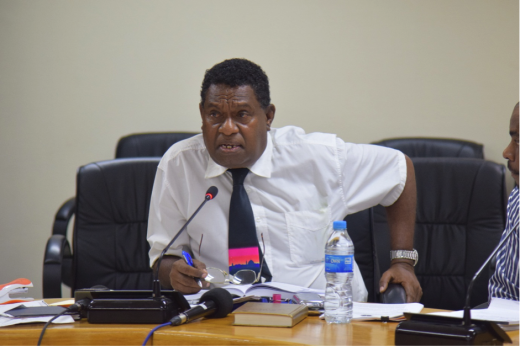 Image Caption: Registrar of the Security Industries Authority, Mr Paul Kingston, answering questions before the Committee.
To compel CEO's to the task of preparing financial statements, the Auditor-General had also recommended vigorous enforcement of the provisions of Section 63 of the PFMA and a legislative requirement be established to make the renewal of contract of employment of CEOs subject to submission of financial statements and implementation and maintenance of prudent financial management.
Committee Chairman, Hon Koni Iguan reminded the CEOs that the recommendations were to help achieve financial management accountability and good governance in the public sector.
It directed that by the end of April 2019, audited financial statements of all public bodies and their subsidiaries must be incorporated into annual reports for tabling in Parliament by the Minister for Finance.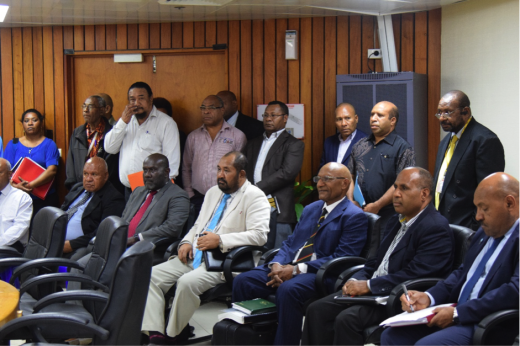 Image Caption: CEOs of Government Statutory Authorities waiting for their turn to be called before the PAC inquiry.
« Back to News