Date Posted: April 20 2018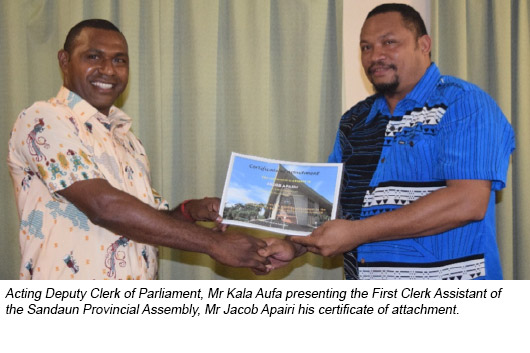 Mr Jacob Apairi from the Sandaun Provincial Assembly had spent two weeks (9th -19th April 2018 with Divisions in the Chamber Branch of the Parliamentary Service, having hands on experience and learning on the job, how things are done in the National Parliament compared to his Sandaun Provincial Assembly.
A ceremony was held on the 20th of April 2018 by the Deputy Clerk Mr Kala Aufa and his management to acknowledge his attachment with the Parliament Service.
Mr Aufa in presenting the certificate stressed that while the systems may not be the same, the concepts are the same.
He said what Mr Apairi has learnt should make his job easier as First Clerk Assistant of the Sandaun Provincial Assembly.
Mr Aufa encouraged other provincial assemblies in the country to send their officers on job attachments with the Parliamentary Service to learn concepts and processes that can be adapted in their own provincial assemblies.
He said officers from the Parliamentary Service will also spend time with provincial assemblies to impart and learn new systems and work processes.
« Back to News