Date Posted: April 19 2018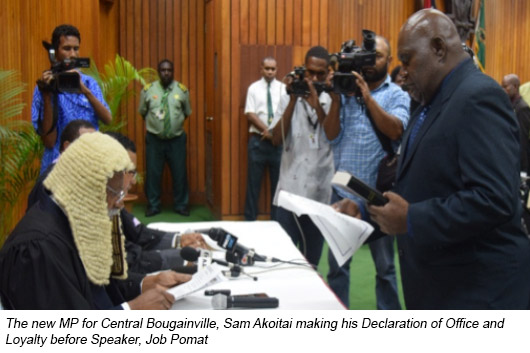 Sam Akoitai has formally taken office as the duly elected Member of Parliament for Central Bougainville after being sworn in by National Parliament Speaker, Hon. Job Pomat Thursday 19/4/2018.
Honourable Akoitai replaces Fr Simon Dumarinu following a successful petition to the Court of Disputed Returns
that ordered a recount of the ballot papers for Central Bougainville in the 2017 General Elections.
The recount showed that he won the Election but by a very small margin.
Mr Akoitai is not new to the National Parliament. He was first elected to the Sixth National Parliament in the 1997 General Elections for the same seat; appointed Minister for Bougainville Affairs after the formation of the Skate government in July 1997 until January 1999; was re-elected in the 2002 General Elections for the Central Bougainville Seat. He has held several ministerial portfolios and served on a number of Parliamentary Committees.
« Back to News